Truman State University
Greenwood Center Project
Truman State University is repurposing a historic community building into northeast Missouri's first interprofessional autism center.
This comprehensive health services center will be staffed with licensed professionals in addition to supervised graduate and undergraduate students enrolled in health-related, academic programs. The center will serve as a much-needed practicum site for a number of the health-related programs. It will also provide a valuable opportunity for students to engage in "hands-on" high-impact learning experiences.
The former Greenwood Elementary School, a treasured community building in Kirksville, is being converted to a facility dedicated to serving those with autism and other neurodevelopmental disorders.
Support the Greenwood Center Project
About the Project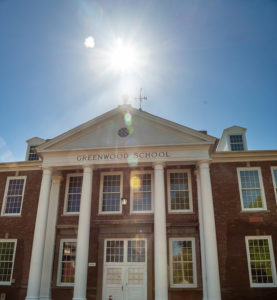 Originally built in 1935, the Greenwood School served elementary students in Kirksville for more than six decades. Truman State University bought the building in 1999 when the Kirksville School District built a new elementary school, and the former Greenwood Elementary School has primarily been used as a storage facility since that time.
In the fall of 2015, Truman launched a plan to convert the building to an interprofessional center designed to provide in-depth, interdisciplinary assessment and intervention for children with autism or suspected autism as well as other neurodevelopmental disorders.  The plan received strong bipartisan support from state legislators and the governor during the 2016 legislative session. In August 2016, the Truman State University Board of Governors approved the architectural services of Mackey Mitchell for the Greenwood Center Project.
Selection of the architectural firm of Mackey Mitchell to develop plans for the building renovation (Summer 2016).
Design work on Greenwood (in process).
Renovation of the building (contingent on funding).
Opening for the Greenwood Center (contingent on funding).
Services in Mental Health Counseling, Occupational Therapy (in collaboration with A.T. Still University), Communication Disorders, Nursing, Health and Exercise Sciences, Education, Psychology and Music are slated to support the Greenwood Center.  Details about the programs will be available closer to the completion of the building renovation.

No. Although the interior of the building will be changed to suit the needs of the services that will be provided, the exterior of the building should look similar to what it has throughout its history. Truman desires to save the historical integrity of the original building while also making it useful and updating it to meet current safety and accessibility standards.